You might recall Florida's Republican candidate for governor Rep. Ron DeSantis kicked his campaign off with some racist dog whistles, calling Gillum "articulate" and warning Florida voters not to "monkey this up" by electing him. He's trafficked in racist conspiracy theories before, like suggesting ISIS was recruiting Black Lives Matters protesters, and he likes to make a big show of not being "politically correct." (Unsurprisingly, DeSantis is also a huge Trump ally and has even tried to shelter the president from Robert Mueller's investigation by proposing legislation to defund it.)
But during last night's gubernatorial debate, Democratic candidate Andrew Gillum delivered a counterpunch that sent DeSantis reeling. When DeSantis was asked about his history of speaking in front of groups that advanced racist conspiracy theories, DeSantis balked at the premise before the moderator could even finish the question. "How the hell am I supposed to know every single statement someone makes?" Desantis asked to boos from the crowd. "I'm not going to bow down to the altar of political correctness."
Andrew Gillum calmly listened while preparing his devastating reply.
"My grandmother used to say 'a hit dog will holler' and it hollered through this room." Gillum began. "[DeSantis] has got neo-nazis helping him out in this state, he has spoken at racist conferences, he's accepted a contribution—and would not return it—from someone who referred to the former president of the United States as a 'Muslim n****r.' When asked to return that money he said, 'No.' He's using that money to now fund negative ads. Now, I'm not calling Mr. DeSantis a racist, I'm simply saying the racists believe he's a racist."
Ouch! That's how it's done, folks!
Let's take another look at DeSantis' reaction to that devastating own: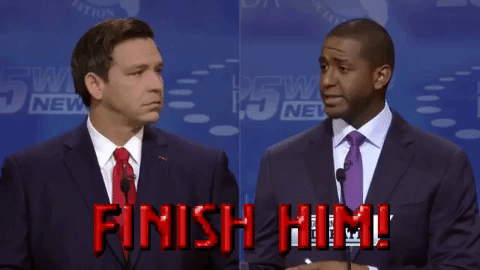 Progressive Twitter was absolutely enthralled with the evisceration:
Kudos to Gillum for calling out racism and doing so in an effective way. Playing coy about the toxic politics on the right is only going to encourage them to continue courting racists, Islamophobes, and other extremists to try to win elections.
h/t: Huffington Post