By now you've probably seen the scathingly hilarious Instagram account Awards For Good Boys. Shelby Lorman, the writer and artist behind the drawings in the account, creates fake awards for men who do the absolute barest minimum to be decent human beings and somehow think that makes them stellar people.
View this post on Instagram
Lorman started the account in 2017 as a way to mock "good boys," which is what she calls these men who seem to think they deserve our praise and gratitude for not being absolutely horrible.
Speaking to Vice, Lorman explained, "I've always found that humor is an incredibly valuable tool for both coping and change."
View this post on Instagram
Lorman continued, "People are so quick to praise men for avoiding vehemently bad behavior, whilst holding women to a million standards they'll never meet. It's like, 'Oh, he didn't murder anyone? He's my hero.'"
View this post on Instagram
The Awards For Good Boys are the perfect blend of biting criticism and humor, and with almost 200,000 followers, clearly, they're resonating with her audience.
View this post on Instagram
"The vibe I get from my followers and friends is that it's a relief to consume something that is still topical, still critical, but has some levity," Lorman told Vice.
View this post on Instagram
Lorman swears she's not trying to be spiteful towards men. She's just trying to get them to be aware of the times that they marginalize women, whether they mean to or not, and get them to laugh at themselves. "When you're laughing, your guard is down, and when your guard is down, sentiments can seep in," she explained.
View this post on Instagram
All in all, she's doing a brilliant job.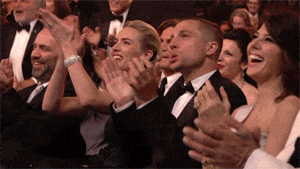 h/t Vice