Anyone familiar with the viral Bad Lip Reading videos has probably noticed the creators lying low lately. Usually, they make a point of adding their hilarious voice-overs to high-profile events including those occurring in the NFL and the White House.
Fortunately, the comedic masterminds have returned just in time to give their own hilarious take on Trump's State of the Union address and Nancy Pelosi's iconic pity clap.
According to the guys at Bad Lip Reading, Trump was really calling for a "pizza party" to which Pelosi begins applauding and responds, "You're a seal! I knew it."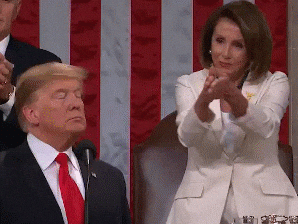 Of course, Pelosi's reaction wasn't the only hilarious dub of the video. At one point, Melania Trump stands up and declares, "It is time for me!" followed by "Milk."
Bernie is determined to "roast all of the fingers" on Trump's tiny hands and Trump calls himself "pretty sexy".
Check out the full video here:
h/t Uproxx