Movie marketing is getting the meme treatment, as shown in a tweet from comedian Paul Scheer. The covers of these classic hit movies have been redesigned to feature an image from the movie and the movie's most famous quote rather than the traditional covers of the movies.
We aren't dumbing down culture AT ALL! Now, if you will excuse me as I watch, "Say Hello to my little friend" pic.twitter.com/h9YyeaNiU5

— Paul Scheer (@paulscheer) May 21, 2019
Scheer doesn't seem to be a huge fan of the style, writing "We aren't dumbing down culture AT ALL! Now, if you will excuse me as I watch 'Say Hello to my little friend.'"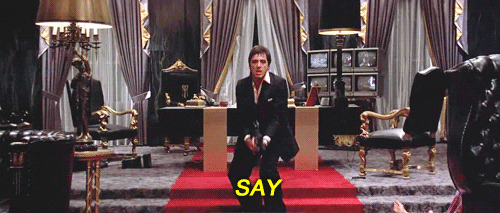 Four movies are visible in the picture: Fletch, with the line "You using the whole fist, doc?"; Jaws, with "You're going to need a bigger boat;" Scarface with (what else?) "Say hello to my little friend;" and Sixteen Candles, with "Happy birthday, Samantha, make a wish" (which is NOT a famous line from that movie at all?).
And he's not the only one who thinks it's kind of stupid. A lot of people on Twitter had pretty much the same reaction upon seeing the picture.
Universal turned iconic movies (eh maybe not Fletch) into memes. Damn those millennials! *shakes fist* https://t.co/0QvCHLTd20

— Hans Red (@HanSolo218) May 22, 2019
This is a disgrace to so many great movies and their directors https://t.co/hn1TMKb8XM

— matthew (@SavinoMatt) May 22, 2019
"Kids like memes maybe we should make the DVDs look like memes!"

— Michael Samonek (@mikesamonek) May 21, 2019
They should be ashamed of that Fletch cover. https://t.co/VQYhGcrp5K

— Charlie Gile (@CharlieGileNBC) May 21, 2019
Honey what was that movie about needing a bigger boat?

— ?Swords Enthusiast? (@TaylorBonzer) May 21, 2019
Bigger Boat Needers 1

— poncedeleonconstantlyon (@mariocotto) May 22, 2019
I mean, why would you replace the cover of Jaws, one of the coolest, most iconic movies of all time, WITH NO SHARK?
I weep for the people that actually designed posters for these. Jaws is one of the greatest posters of all time, who on earth thinks this is a better way to advertise it?

— Matt Day (@reformattday) May 22, 2019
Some people added their own ideas of famous lines from movies. Like When Harry Met Sally.
S'cuse me while I watch, "I'll have what she's having…" pic.twitter.com/Jb6w8JYhIT

— Buck Ofama (@BuckOfama7) May 21, 2019
And Edge of Tomorrow.
This shit happened with Edge Of Tomorrow, or as most people know it as, Live Die Repeat. https://t.co/RIniE4Soma

— Jeff Gipson ? (@mrgipson) May 21, 2019
Gran Torino.
There's one of these for GRAN TORINO and it just says "Get off my lawn" over a mostly empty background. https://t.co/Ci3u5PuHQp

— Jake Mulligan (@_JakeMulligan) May 22, 2019
Predator.
I can't wait to watch, "Yoooou sonofaBITCH!" again! pic.twitter.com/KbKKTh2ngQ

— Monty (@captainmetoxen) May 21, 2019
Another Arnold Schwarzenegger classic, Terminator.
Is "I'll be back!" On Blu-ray?

— Carlos E Mendez (@xCarlosEMendez) May 22, 2019
The Godfather.
I hope they have my favorite movie.
Leave The Gun, Take The Cannoli pic.twitter.com/padLTCdDz8

— ILaughedSoI (@laughed_so) May 22, 2019
Karate Kid and a reference to Citizen Kane.
Ahhh "Sweep The Leg" right up there with "Rosebud"! Classic!

— Amber Adams (@smadarebma) May 22, 2019
Ghostbusters.
I'm going to hold out for. "If someone asks if you are a god, you say YES!"

— Count Zero (@Neuromancer2000) May 21, 2019
Die Hard.
Where can I buy Yippee Ki Yay Motherfucker?

— ☘?? VENOM FOX ??☘ (@VenomFox93) May 22, 2019
And so on.
Can you pick me up all four of Bruce Lee's movies, WA-TAH!, WA-TAAH!!, WA-TAAAH!!!, and also WA-TAAAAH!!! please.

— W. Kamau Bell (@wkamaubell) May 22, 2019
Looking forward to buying that limited edition "Your mother sucks cocks in hell" blu-ray

— Drew Harmon (@drewharmon) May 21, 2019
I'm looking forward to rewatching "I ain't got time to bleed" again

— John Cunningham (@jcimage1) May 22, 2019
This is obviously not the first time movie marketing has looked strange:
I worked at Blockbuster Video when this came out and everyday, someone asked for that new film "Val Kilmer" pic.twitter.com/1DTX7ENQ1V

— Ruth (@BigPic_Ruth) May 22, 2019
But not everyone thought movies being memed on their covers really mattered much.
ah yes notoriously cerebral film *checks notes* scarface.

— Pants™️ Official (@adamjacksonreal) May 21, 2019
Then again…..who still buys DVD's?

— Mindy Robinson ?? (@iheartmindy) May 22, 2019
ah yes, fletch, one of the great achievements in culture https://t.co/tPDGPZPaCz

— robert franco (@responsiblerob) May 22, 2019
And some thought it was actually a good idea.
It kinda works. The quotes with the screencap give you a context to the movie you might not otherwise get. https://t.co/ukFVHI9QJF

— SwissBankMane (@SwissBankMane) May 22, 2019
Yeah, FUCK trying to sell classic movies on physical media by using the language of modern mass communication!!! https://t.co/ruqxLCR6QP

— John? (@JohnnyOatley) May 22, 2019
This is actually genius.

Everyone has heard these famous quotes before, but maybe didn't know what movie it's from.

Could convince someone to watch a classic film they've never given a chance before.

Everyone is so negative. https://t.co/Plmrk1X149

— All Ego Ethan Page (@OfficialEGO) May 22, 2019
So what do you think? Is this cool or just stupid? And what other movies with super famous lines could be advertised this way?