Stranger Things fans love to hate Billy Hargrove, the show's most unlikable villain who isn't paranormal in nature.
But Australian actor Dacre Montgomery, who portrays Hargrove, is a softie at heart, with a Beat poetry podcast, and now, he's shared an inspirational story with all of his fans. If you've felt like you couldn't achieve your dreams, he has some words for you.
Montomgery took to Instagram to tell a story about his childhood. It's not your typical story about vacations or playing with friends in school. He shares that he wasn't a popular kid, didn't enjoy sports, and felt ignored by girls. He also says that he was anxious and felt "distracted," which any person with anxiety can understand. But Montgomery always held on to his dream of becoming a professional actor.
"I knew what I wanted to do. And every night I went home and I focused on THAT," he wrote on Instagram, alongside a childhood photo of himself. "I visualized a future where my dreams became a reality."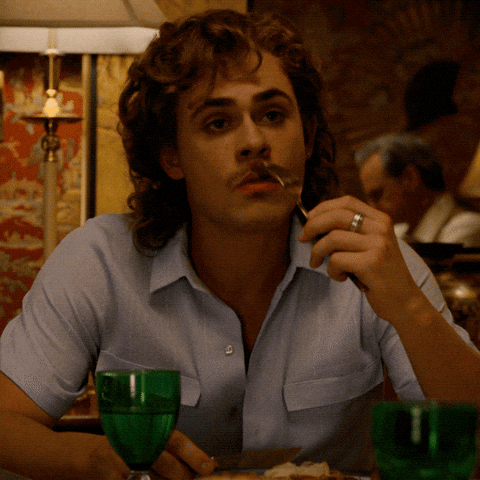 But anything worth doing is always hard, and Montgomery ran into his own obstacles. He writes that his teen years were beset with challenges, because people didn't believe in him — but he was determined to succeed as an actor.
"When I was 15 I failed my high school drama exams. When I was 16 I was told I needed to loose [sic] weight. When I was 17 I was told I should go to drama school and train. When I was 18 I was fired from my job. When I was in drama school I was told to leave."
We all know how the story ends. Montgomery was eventually cast on Stranger Things, and we're sure he celebrated his accomplishment — and maybe wanted to say "I told you so" to his detractors.
But as he describes, he buckled down, worked hard to improve his skills, and most importantly, he believed in his dream. "When I had a DREAM – I was told it wasn't achievable. Well, you know what…I lost weight, I went to drama school and I never stopped wanting it, I never stopped being curious. I never let the failures get me down. Because I believed in myself and I never let anyone tell me otherwise," he wrote.
Montgomery also encouraged his followers to pursue their dreams. "You can do anything you set your mind to. So, go out there and get it!" His story should serve as an inspiration to us all. What are your dreams?