If you're going to challenge somebody to an impromptu, drunken street brawl, it probably shouldn't be the son of God. One random, drunk guy discovered this the hard way when he tried to goad Luis Felipe Andrade Amaral into fighting while Luis was dressed up as Jesus Christ at a festival in São Paulo, Brazil. Unfortunately for the uncoordinated drunk man, Jesus has some serious jab when it comes to engaging in fisticuffs. 
Luis posted a video of the interaction with a simple warning: "Don't f*ck with Jesus."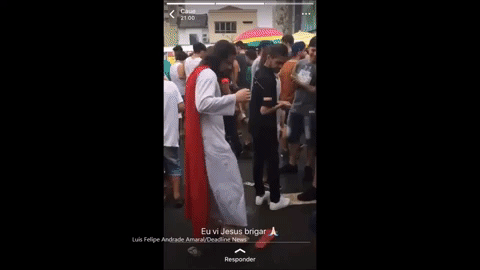 Yeah, I'm thinking this guy is gonna need to do some serious Hail Marys to repent for trying to kick Jesus' ass.