Netflix has become nearly as indispensable to most Americans' lives (or at least mine). I don't even CARE that they're raising prices by like $2 because I watch it every day, even when I'm not watching it and it's just on for background noise.
Netflix can do no wrong. Not even when it glitches out and mismatches preview images with descriptions. Because all that leads to is a good laugh or several, as the following tweets prove.
1.
Either there's a @netflix glitch or @MarieKondo's methods have escalated. pic.twitter.com/yzfR1bbC69

— William Hanson (@williamhanson) January 20, 2019
2.
Yeah……definitely thinking glitch! pic.twitter.com/V7edVabKzV

— Tristan (@DuckFan83) January 22, 2019
3.
Our glitch was better: pic.twitter.com/rogb7U5Xqi

— Selma Shennib (@selmashutup) January 22, 2019
4.
Christ shrek 2 sounds a lot more intense than I remember pic.twitter.com/nLfDXMOTFg

— george (@grgmell) December 27, 2016
5.
tried to screenshot parks and rec but apparently screenshotting netflix makes it black so now i have this picture pic.twitter.com/hfuxUz5xnO

— functional moron (@fiveburger) December 10, 2016
6.
the #mariekondo @netflix glitch brought back happy memories of when this Winston Churchill doc description was lingering in places it shouldn't. talk about revealing some big secrets though, damn. #netflix #MARIEKONDO 1/3 pic.twitter.com/H0Mw6aRPMJ

— bp cooper (@bpcooper) January 22, 2019
You May Also Like…
— Ruin My Week (@RuinedWeek) January 22, 2019
7.
netflix acidentaly put the synopsis of "police academy" under "making a murderer" so basicaly, netflix woke af pic.twitter.com/RFqsb6UBYF

— jonny sun (@jonnysun) January 10, 2016
8.
When did pokemon get so hardcore? pic.twitter.com/6s4U2TqzKy

— Neru (@NeruNox) March 7, 2016
9.
#netflix programming glitch pic.twitter.com/HDUfH8YFU6

— Jason Unruhe☭ (@MaoistRebelNews) December 3, 2018
10.

11.
Also these mistaken Netflix descriptions for Bob Ross had me laughing: pic.twitter.com/NaMrWaaI1f

— Lard of Dorkness (@LardFDorkness) January 21, 2019
12.
A couple of years ago this one happened to me. ? pic.twitter.com/vehL5v8hyc

— Jessi Saylors (@peppermintJ3ss) January 22, 2019
13.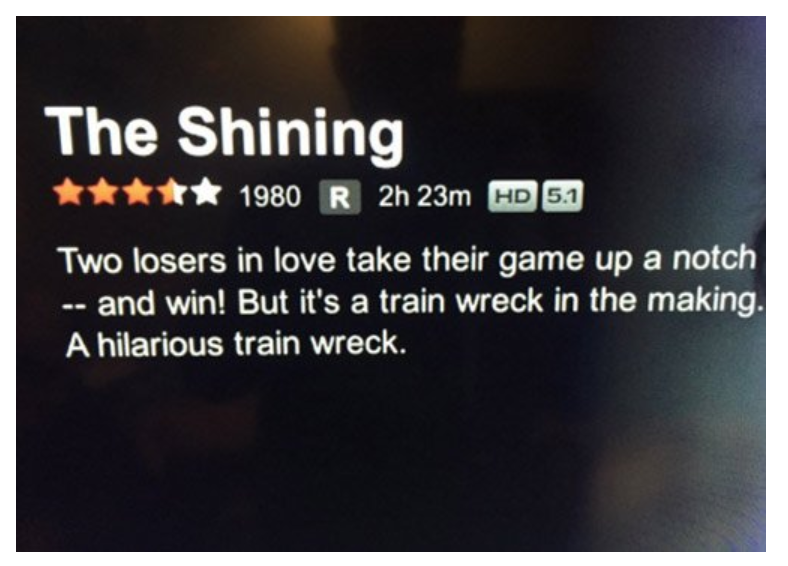 14.
Netflix, you might want to fix this description. #Netflix #wtf pic.twitter.com/j2HCPjDsbO

— Tony Southcotte (@tsouthcotte) February 18, 2016
15.
@SummaryBug Man, Winnie the Pooh has gotten a lot darker since I was a kid pic.twitter.com/DMRfouiJ4r

— Due to the shutdown I'm cancelling all your tweets (@JustinOArnold) December 23, 2015
16.
Lol mega glitch, as that's from the TV show "How to get your kids to tidy up with Mother" hahaha best one I've seen was @rickygervais @DavidBrentMovie next to sausage party lol pic.twitter.com/ZeIkvfjYmD

— Daniel Missing (@PoeticJustice) January 22, 2019
You May Also Like…
— Ruin My Week (@RuinedWeek) January 21, 2019
17.
@SummaryBug I really want to watch The Walking Dead with the cast of Kimmy Schmidt! pic.twitter.com/Yq55DOvTN0

— Adam Hunter Peck (@adamhunterpeck) August 22, 2015
18.
Turns out Turbo is much more than a feel good family movie about a fast snail… Nice description #Netflix pic.twitter.com/yozkAZuo0F

— Book Ruffell (@BookRuffell) November 29, 2015
19.
My Netflix had an error and kept the same description for everything pic.twitter.com/kfJ3Klx6Or

— Viral IQ (@Viral_IQ) April 12, 2016
20.