President Donald Trump delivered a boring, redundant, and uninspired speech from the Oval Office Tuesday night. If you didn't catch it, you didn't miss much—he blathered on about how much he wants that wall at the southern border of the U.S., sniffed a whole bunch (I can't), and also told a bunch of lies. Nothing new.

But, maybe in an attempt to liven things up a bit, a news editor at Fox affiliate station Q13 in Seattle took it upon himself to morph the living daylights out of Trump's face while he was speaking. Behold, a genius at work:
As you can see, Trump is far more orange than his usual tangerine-ish hue, and his tongue looks like a swollen piece of mango lolling about in his mouth.
It's not completely clear just when this doctored clip aired since it's pretty unlikely that the editor was actually doing it during the live broadcast. Maybe in a recap clip? Either way, cheers for a job well-done.
According to the Seattle Times, Erica Hill, Q13's news director, said in a statement Wednesday that the clip did "not meet our editorial standards" and added that the station regretted airing something that could be seen as "portraying the president in a negative light."
Unfortunately, the person who changed the footage ended up losing his or her job over the stunt. On Thursday, after looking further into the prank, Hill told the Times, "We've completed our investigation into this incident and determined that the actions were the result of an individual editor whose employment has been terminated."
That's disappointing, and hopefully whoever this unidentified hero is lands a new job ASAP. But in the meantime, at least they've got the admiration of people everywhere.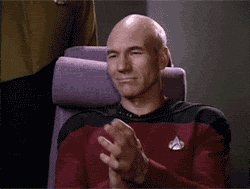 h/t: Vice