While accepting an award at the E! People's Choice Award, the female rapper thanked a dress designer, Donatella Versace "for custom making this outfit for her" and then said…
Nicki Minaj and Michael B. Jordan need to happen #PCAs pic.twitter.com/LqQIZbFodk

— Nicole Perez (@nicole_perez1) November 12, 2018
Get it, sis.
While promoting their film together, A Simple Favor, Lively and Kendrick got pretty damn close.
So, Lively took their newfound love public.

And, Kendrick was down.

In her new song, Cardi B had mentioned she wanted a "threesome" with RiRi and Chrissy Teigen."
"I need @ChrissyTeigen / Know a bad bitch when I see one / Tell RiRi I need a threesome"

—@iamcardib on "She Bad" #InvasionOfPrivacy https://t.co/josPScRu1d pic.twitter.com/NcGwMOchZm

— Rap-Up (@RapUp) April 6, 2018
So, Chrissy Teigen was shocked and said: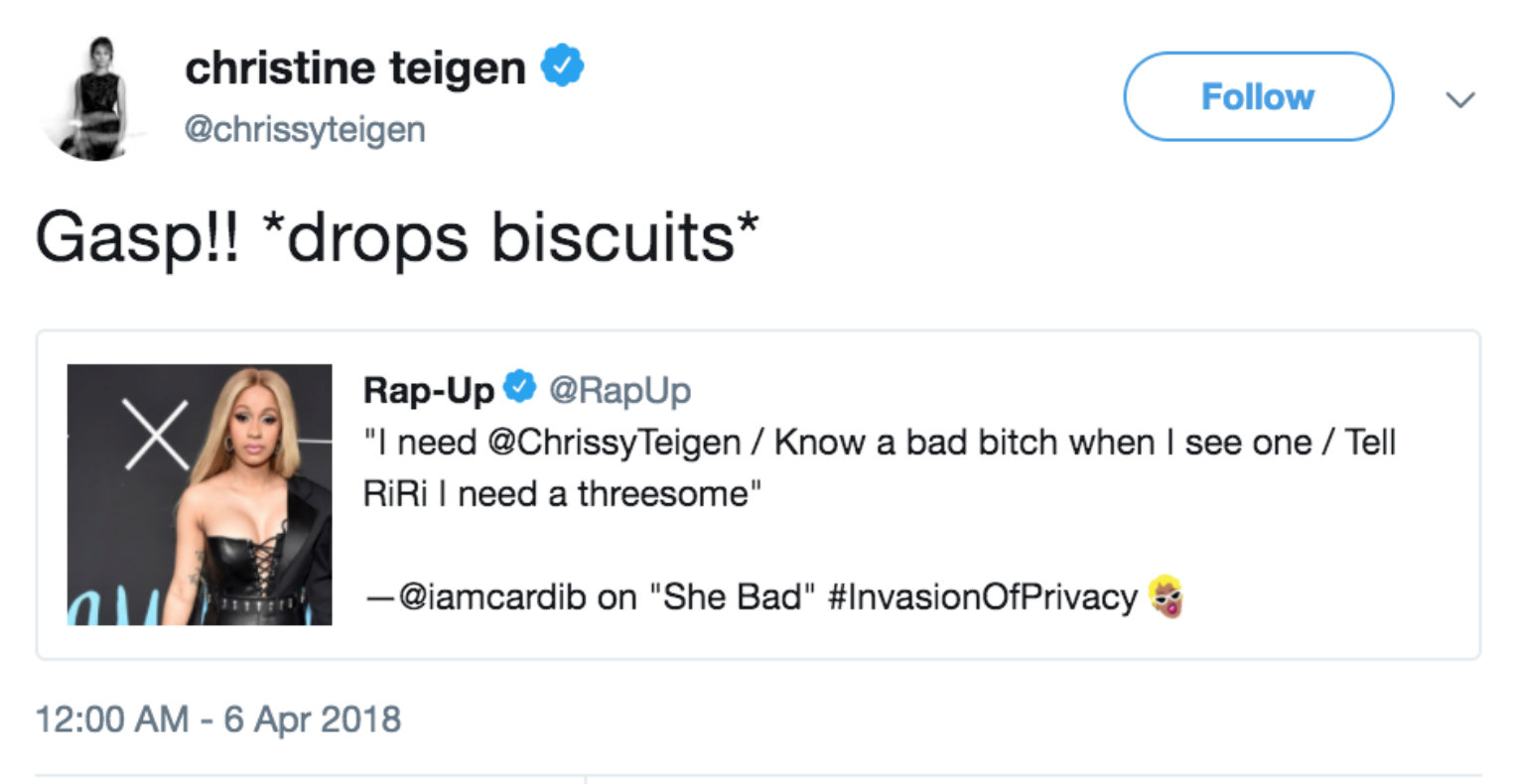 I mean—who wouldn't want a threesome with two of the baddest women in the game?!?
While commenting on a rather funny and inappropriate cross-stitch, Bell revealed that…
And, she wasn't afraid to tell the world.
Classic.
15. Kate Beckinsale said David Spade has a "big dick."
After posting a photo in a dressing room, Beckinsale and Spade had a little convo on Instagram in which…
Beckinsale said they totally look alike, except for Spade's bigger dick (and muttonchops).
16. Jonathan Tucker got hella thirsty with Mark Consuelos.
After wife Kelly Ripa posted a photo of Conseulos playing Hiram Lodge on Riverdale, actor Jonathan Tucker posted a hilariously thirsty comment on her Instagram.
17. Jason Biggs got hilariously perverted on his wife's Instagram.
Biggs' wife, Jenny Mollen, posted a blurry photo of how fast she typed, to which Biggs said it'd be nice if her hands worked faster "while doing other things."
18. Kanye West got a lifetime free membership from Pornhub for giving them a shout out on TV.
Kanye West was in the news a lot this year for a lot of bullsh*t, but hilariously enough, he still has time for porn. While on Jimmy Kimmel, the rapper said he loves to look at Pornhub and that "Blacked" was his favorite category on the site (sorry, Kim).
So, in response…
We want to extend our appreciation to a Mr. @kanyewest for his loyalty to us over the years. A gift in the form of a free lifetime premium membership. Here's to you, Ye. https://t.co/1uarAl53xp cc: @jimmykimmel

— Pornhub ARIA (@Pornhub) August 10, 2018
He deadass got a while free membership—for a lifetime.