Hormones are like nature's way of spicing up life. If you're someone who gets a period, you especially know that's true. For half of the world's population, there's about one week a month that's filled with mood swings, bloating, and more, all thanks to raging hormones.
Of course, those hormones are part of the natural menstrual cycle that keeps a uterus running smoothly. But it's hard to remember that in the week or so before your period when your hormones are turning you into a rage machine one second and triggering full-on weeping in the next. It's all part of PMS (pre-menstrual syndrome), the collection of symptoms that turn even the sanest of people into wild cards.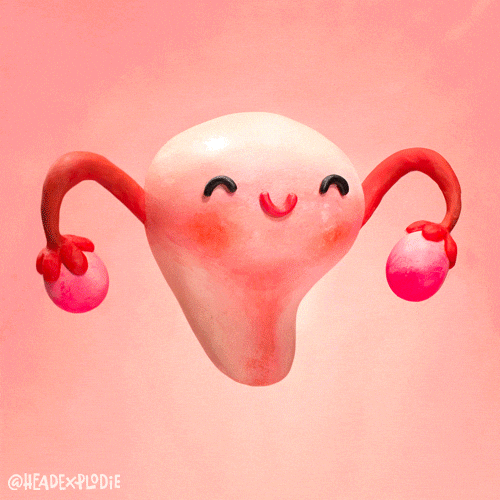 Even though PMS is a real pain (both literally and figuratively), there is one positive side to it: At least when you're dealing with PMS, you know you're not alone. In fact, people on Twitter are sharing their worst PMS symptoms, and they will help you realize you're not the only one rattled by hormones.
Twitter user @tinytwink wrote that she's battling some "absolutely raging PMT" (which stands for pre-menstrual tension, the name for PMS in @tinytwink's native United Kingdom) and wanted to hear from other people about the "completely irrational things you have done whilst being under the influence of hormones."
Hormones are weird. I can swing between calling a teaspoon a 'filthy slag' because it dropped on the floor, to crying uncontrollably at the dogs trust advert when the balloon gets stuck in a tree and OMG THAT DOG WILL NEVER FIND ITS OWNER pic.twitter.com/0U157tWcxI

— Twinks (@tinytwink) July 1, 2019
@tinytwink started the thread off by sharing her own story of hormonal wackiness. She wrote:
"One day when the twins were babies, I was cooking tea. Their Dad walked in from work. We said hi to each other and he went to see the twins. I went back to cooking. Now, I can't remember exactly what it was, but sausages springs to mind. As I was seeing to the pans, out of the corner of my eye I see him re enter the kitchen. I then saw him look over the hob into the pan and ever so slightly turn his top lip up. Without saying a word, I very calmly walked to the back door, opened it and threw EVERY F—ING PAN OVER THE FENCE."
Without saying a word, I very calmly walked to the back door, opened it and threw EVERY FUCKING PAN OVER THE FENCE.
— Twinks (@tinytwink) July 1, 2019
The tweet replies to @tinytwinks do not disappoint. People's hormones have them doing a whole lot of wild things.
1. One person wasted a perfectly good cake.
Went to deli to get husband's fave cheesecake. Impatient husband pissed and bitching because I took so long, so I opened the car window and threw out his cheesecake.

— Tricia (@iknowhim) July 1, 2019
2. One woman proved that sometimes you just need a good cry at a children's movie.
Watched frozen on a plane (for work not with my kid), cried, it finished, watched it again straight away and cried again but for longer. The poor guy next to me… PMT is a total bitch.

— Allie Keith (@alliekeith) July 1, 2019
3. Another person wouldn't let their hairdresser do their job.
Cut my own hair because Hairdresser was a feckless wonder and I could 'feel the wonkyness"

— lottie hedgerow (@lottiehedgerow) July 1, 2019
4. One husband received the brunt of his wife's PMS symptoms.
Not me, obviously, but my wife once chucked an absolute screaming wobbler because I'd hung the washing out "wrong".

— PixelGuff (@PixelGuff) July 1, 2019
5. Other people have taken out their hormonal rage on inanimate objects that (probably) can't fight back.
Screaming obscenities at a fork that got itself stuck in the dishwasher cutlery tray.

— Naomi Carey (@carey_naomi) July 1, 2019
6. In fact, inanimate objects are really popular among sufferers of PMS.
Stamped my hoover to death because the cord was too short. Husband said, 'I'm not buying another one'. I shouted, 'Well it was MY fucking hoover anyway'. I'm normally a nice person but the hoover was asking for it.

— zellish rose (@zellishrose) July 1, 2019
7. Sometimes people get upset about things that never even actually happened, like dreams.
Dreamt my husband cheated on me. Went from being angry to crying at ten minute intervals for about six hours.

— Liz (@ejp72) July 1, 2019
8. Or people can have(really intense) imaginary fights with strangers.
Saw a random woman on a train platform – began to have an imaginary argument with her in my head – it got so heated I ended up crying with rage, then feeling guilty that I'd been so horrible to her and crying more because I felt like a terrible person.

— Caroline (@CarolineTecks) July 2, 2019
9. It's also a known fact that decision-making can be really difficult when you have PMS.
I once broke down in the pizza aisle of morrisons because i couldnt decide what i wanted for tea. A crumbled, sobbing heap on the floor while my then boyfriend patted me on the head and patiently waited for it to be over.

— Hannah Cooke (@KrazyBatLady) July 2, 2019
10. And it can be really hard to watch other people have fun when you're so miserable.
My wife took to the street to tell some students, who were just happily playing football, to "STOP HAVING FUN!!!"

They stopped having fun

— rob nelmes (@robnelmes) July 1, 2019
11. Or it can be difficult to even interact with a dog.
It's not extreme but the dog looked at me funny and I cried because i thought she hated me…

— Muzzer Daftbat (@muzzer_daftbat) July 1, 2019
12. When you have PMS, you don't want anybody messing up the hard work you manage to get done.
DO NOT WALK ON MY FRESH VACUUM LINES YOU MUST WALK THE PERIMETER OF THE ROOM.

— Shawna O (@MamaShawnaO) July 1, 2019
13. That is, if you get your work done at all.
While making sandwiches for tea on big fancy rolls, smashes them to pieces shouting. "I hate making sandwiches " and my husband coming in and gently removing the smushed up pieces from my grasp! I am quoted to this day every time I make a sandwich!!

— Thelovelymrsj (@schnorks) July 1, 2019
14. Hormones can make it so that anything can trigger crying. Even a candy bar.
Had a breakdown and got sent home from work early because my kit-kat got stuck in the vending machine.

— Kirsty R. (@FollowRodders) July 1, 2019
15. Or just a memory can bring on the tears.
Cried so hard about an old couple that used to come in the newsagents I worked at to buy comics for their grandchildren, almost had a panic attack. Actual choking sobs.

— Charley ? (@slowerliving) July 1, 2019
16. Making mistakes is hard when you have PMS.
My mum made dinner one evening when I was little and whilst carrying her plate she spilt her peas on the floor. I found her sobbing uncontrollably in the pantry, in the dark still holding her dinner plate.

The dog ate the peas, I ran off giggling ?

— BendyTwinkleToes (@ToesBendy) July 2, 2019
17. And so is admitting when you're wrong.
Stormed off after an argument. Walked 16km home rather than back down. #blisters

— e ni c (@PolythenePam0) July 1, 2019
18. Basically, people are just really sensitive when they have PMS.
I cried because my name was last in a group work email. This was only last week, it's still raw.

— Blondie (@bl0ndie_20) July 1, 2019
19. Even world events from years ago can resurface thanks to hormones.
Sobbed hysterically while pissed on NYE 2002 while all-male housemates looked on, mystified. When questioned I could only respond "Princess Diana's dead".

— Helen (@HellyHel) July 1, 2019
20. But one thing that usually helps with PMS is having someone there to provide a little comfort from the scary hormones.
I saw the grapes in the fruit bowl and the colour just looked really sad. I SOBBED. Hubs cuddled me and I could feel him trying not to laugh and I blubbered "I…see…the…(hic) funny…side…" ?

— Erica Buist (@ericabuist) July 1, 2019