Back when my best friend was heavily pregnant, we were at a restaurant where she'd ordered fish and followed it up with a coffee when the waitress made a comment about how she liked that my friend didn't "follow the rules" or something to that effect. It was strange and invasive and the waitress immediately apologized, but it was still clear—pregnant women are judged for what foods and drinks they order.
Actor/comedian Tiffany Stevenson (@tiffstevenson) tweeted about how she'd been at Starbucks and witnessed a male barista tell a pregnant woman who'd ordered a caramel macchiato that she should have it decaf instead of regular "because caffeine is bad for the baby."
Unbelievable bit of womb bothering in Starbucks at services . A pregnant woman got her Caramel Macchiato and the guy behind the counter said

'Oh , it's for you . Do you want me to make a decaf?'

She said 'No, thanks'

Him 'No I should because caffeine is bad for the baby'

— Tiffany Stevenson (@tiffstevenson) May 18, 2019
The pregnant woman explained to the barista that she has a single caffeinated coffee a day, which is completely safe according to Americanpregnancy.org. (The site recommends limiting caffeine intake to less than 200 mg per day, which is about equivalent to 12 ounces of coffee.)
Her 'It's fine I have one a day'

Him 'But…you shouldn't'

Me *almost spontaneously combusting* 'Are you a man , telling a woman what she should and shouldn't have during a pregnancy?

Then he says

'Oh just because it's bad for the baby so that's why I'm saying it'

— Tiffany Stevenson (@tiffstevenson) May 18, 2019
When the barista still wouldn't make the drink, Stevenson stepped in, saying, "Unbelievable. Stop it." She shared that the dude was maybe 30 years old, if that, and then joked about Starbucks doing OB/GYN training.
Me 'Unbelievable. Stop it'

Then he continues to try and justify policing a complete stranger for 5 minutes. He was maybe 30 years old max.

Are they also doing Ob/Gyn training at Starbucks these days?

— Tiffany Stevenson (@tiffstevenson) May 18, 2019
Other women shared similar things that had happened to them when they were pregnant.
I've had that. If I wanted decaf I'd have asked for it. Also recommended daily limit for caffeine is 200mg, one filter coffee is 120mg, so way under. And going over is fine, as it's just a guideline, and a pregnant woman is capable of making her own decisions. Also, shut up.

— Kati (@fabulous_girl) May 18, 2019
Happened to me in @CosyLeicester. Ordering a glass of champagne (just the one I might add). It was my baby shower. And the guy was no more than 30. I was astounded. Nothing like a man attempting to shame a heavily pregnant woman in front of her friends and co-workers ?

— Gigi (@GigiGigi32) May 19, 2019
I had exactly the same thing in Pret when I was pregnant. I was angry for days.

— Rosie Seed (@rosieseed) May 18, 2019
Waiter once told me I couldn't have a dish that had avocado in it because I was pregnant. Was quite adamant about it. Extraordinary combination of ignorance and arrogance

— Michelle Daisley (@michelledaisley) May 19, 2019
I got similar buying some coffee flavoured gelato. So weird.

— Katie Ryan (@katierrrry) May 19, 2019
there was a reddit story video i saw on youtube a while ago where a pregnant lady had an older lady grab her coffee cup and bin it (this was in the states I believe) luckily the staff member stepped in and made her a fresh one but there is no justification for doing this!

— neil (@NEIL_MALONE) May 18, 2019
People also joked about what the pregnant woman should have said, or shared things they themselves had said when they were pregnant and people tried to police their choices.
Happened when I was pregnant.
I pulled a sad face and told the server it wasn't a pregnancy, it was a massive tumour.
They looked horrified but served me VERY quickly after that.

— Ruby Curtis (@Rubrovski) May 18, 2019
I find replying "it's fine, I'm going to have an abortion anyway" shuts them up. Especially when you're about 8 1/2 months pregnant.

— Rachel (@whiteroserachel) May 18, 2019
"Yeah but I'm hungover as fuck so I really need it"

— darrellgölder (@scrumpadelic) May 19, 2019
I would have gone with "what baby?"

My response to "when's it due" was always "when's what due?"

— Jonathan Ruth (@JonathanR67543) May 20, 2019
How about "it's ok it's not mine"?

— Colleen Collins (@fran2col) May 18, 2019
Some women brought up just how important that coffee was to them when they were pregnant.
I have 3 perfect children nicely brewed in utero with a smidge of caffeine to keep mama sane.
Woe betide anyone that got between me and my one precious coffee a day!

— Cáit (@CaitFU) May 18, 2019
I'm currently pregnant and if someone tried to take my one coffee a day away I'd punch them in the face. None of his business. Love you for sticking up for her

— Julia (@jewjuba) May 18, 2019
Exactly this. I cut down my caffeine, but that one coffee was my treat of the day.

— Kat Ellis (@KatEllis37) May 18, 2019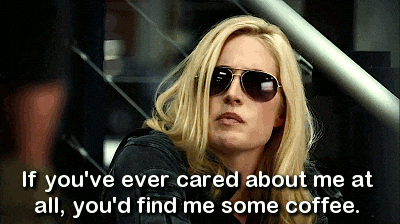 So many people loved Stevenson's use of the phrase "womb bothering."
Love the term womb bothering lol! Well done for saying something!

— Sharon Anderson (@spursgirl222) May 18, 2019
Can I use #WombBothering even if I'm not pregnant? I see opportunities.

— HumanFlypaper ?? (@HumanFlypaper) May 27, 2019
And pretty much everyone was in agreement that the man should have just shut up, minded his own business, and done his job.
Mansplaining at it's worst

— MisterC (@toucanjester) May 19, 2019
Mansplaining pregnancy is the ultimate mansplain

— alwayspencil ✏️ (@alwayspencil) May 19, 2019
"No uterus, no opinion" comes to mind?!

— Tara Louise (@cotswold_tara) May 19, 2019
What is it with people thinking they have the right to make decisions on behalf of pregnant women?

— 01 811 8055 (@MarkReckons) May 18, 2019
I am absolutely spitting at this. I really, really hope that she complains.

— Rebecca Reid (@RebeccaCNReid) May 19, 2019
— Cáit (@CaitFU) May 19, 2019
Bloody nerve. She should have thrown it at him.

— Aunt Olive (@HelpfulOlive) May 19, 2019
At the time of this writing, Starbucks still hadn't issued a response to Stevenson's tweets. But can we all agree that it is not for other people to decide if it's okay for a pregnant woman to have a damn cup of coffee or not.