Some tennis fans were probably too invested in Monday's U.S. Open match between Serena Williams and Maria Sharapova to notice the blink-and-you'll-miss-it drama off the court. Luckily, we have the receipts to show what can only be described as some truly impressive trolling on the part of Serena Williams' husband, Reddit co-founder Alexis Ohanian.
A bit of background: Williams and Sharapova have somewhat of a rivalry dating back to their first face-off in 2004. Over the years, Williams has handily beat the Russian athlete a whopping 20 times—including Monday's matchup—with Sharapova notching just two career wins against the tennis great.
In Sharapova's 2017 memoir, Unstoppable: My Life So Far, she wrote about Williams' influence on her own game, but threw in a bit of body-shaming for good measure:
"First of all, [Serena Williams'] physical presence is much stronger and bigger than you realize watching TV," Sharapova wrote. "She has thick arms and thick legs and is so intimidating and strong. And tall, really tall."
Sharapova also claimed Williams "hated her for being the skinny kid who beat her, against all odds."
That didn't stop Williams from crushing her 6-1, 6-1 in the U.S. Open's first round on Monday, of course.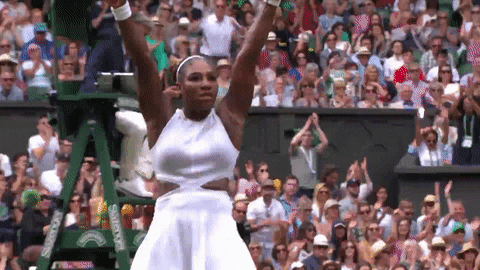 Sharapova has also faced her share of struggles off the court—including a two-year suspension for doping after failing a drug test in 2016.
Ohanian took the opportunity to remind Sharapova of that unfortunate fact as she and his wife duked it out on the asphalt. How, exactly? By sporting a T-shirt emblazoned with the D.A.R.E. logo in a show of solidarity—and a lesson in peak pettiness.
the second drag of the serena-sharapova match happened off the court, with @alexisohanian in a d.a.r.e shirt. ? if you know, you know. #USOpen pic.twitter.com/CbnVXUtdeF

— get on the drums, ro (@oscar_pope) August 27, 2019
D.A.R.E., of course, stands for Drug Abuse Resistance Education, a program that seeks to encourage students to lay off drugs.
Twitter users quickly noticed Ohanian's dig—and loved it.
This is marriage excellence

— roxane gay (@rgay) August 27, 2019
??? I'm screaming pic.twitter.com/lc8AvuwguL

— Tina Montana (@ginandtectonica) August 27, 2019
Lawd… sizzle…burn ??? pic.twitter.com/rdsTrKQHT4

— JoJo Love (@HearJoJo) August 27, 2019
This is true love. Some Men buy flowers. Some men buy gifts. This man brought a bouquet of fresh cut petty.

And had the nerve to stand all the way up and applaud in it.

Alexis, sir: pic.twitter.com/0W6TuqFe9Y

— BlackXtian (@BlackXtian) August 27, 2019
I'd like to report a murder ? @alexisohanian #renasarmy #usopen pic.twitter.com/RLtUNxZZVu

— Auto Tinsley (@AgentTinsley) August 27, 2019
Get you someone who drags your enemies along with you.

Alexis loves him some Serena. https://t.co/hBda97bhMr

— Ali B (@wtflanksteak) August 27, 2019
Neither Williams nor Sharapova have publicly commented on Ohanian's interesting choice of clothing. But there's definitely something to be said for a husband who's willing to throw some serious shade at his wife's opponents, isn't there?