Some people invest a lot of time into watching TV shows, and not infrequently turn out to be disappointed with the endings. So somehow it's not really surprising (although it is pretty dumb) that fans dissatisfied with the eighth and final season of Game of Thrones have been signing a petition, one that was started before the actual final episode even aired, asking that the entire season be redone with different, "competent" writers.
The petition, on Change.org, has over 1,200,000 signatures as of the time this was written. Many people who've signed it have expressed that they don't really expect HBO to redo the season, they just want the creators to know how dissatisfied they were with it. It seems as though the message has probably been received, but the petition is still up and gaining signatures by the minute.
"David Benioff and D.B. Weiss have proven themselves to be woefully incompetent writers when they have no source material (i.e. the books) to fall back on," the creator of the petition wrote on Change.org, calling out the Game of Thrones showrunners. "This series deserves a final season that makes sense. Subvert my expectations and make it happen, HBO!"
But one person who's not here for all that is actor Sophie Turner, 23, who has played Sansa Stark on Game of Thrones since the very first season. Speaking to the New York Times, Turner explained that she found the petition "disrespectful" but, at the same time, she wasn't exactly surprised.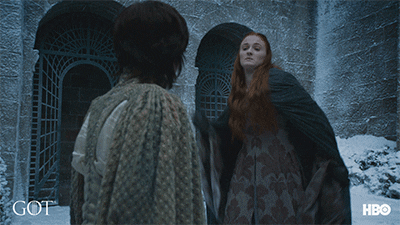 "People always have an idea in their heads of how they want a show to finish, and so when it doesn't go to their liking, they start to speak up about it and rebel," she said.
All of these petitions and things like that—I think it's disrespectful to the crew, and the writers, and the filmmakers who have worked tirelessly over 10 years, and for 11 months shooting the last season. Like 50-something night shoots. So many people worked so, so hard on it, and for people to just rubbish it because it's not what they want to see is just disrespectful.
Fans of the show complained that there was too much happening without sufficient explanation and that the season lacked the necessary character development. But Turner pointed out that the show has always been hard to predict:
The thing about Game of Thrones that's always been amazing is the fact that there's always been crazy twists and turns, right from Season 1 with Ned's [Sean Bean] beheading. So Daenerys [Emilia Clarke] becoming something of the Mad Queen—it shouldn't be such a negative thing for fans. It's a shock for sure, but I think it's just because it hasn't gone their way.
The interview also brought up a controversial scene wherein Sansa is speaking to the Hound and she implies that all her abuse and suffering is what gave her so much strength. People were upset because that sends the message that what happened to her happened for a reason, and she should be grateful for it.
In response, Turner said that she doesn't "think that was the intention." Rather, "It was that she was strong in spite of all of the horrific things that she's gone through, not because of them…Sansa to the core is resilient and brave and strong, and that had nothing to do with her abusers."
The show may be over, but it doesn't seem like we'll be done talking about it for quite some time.