Warning! This post includes spoilers for the Game of Thrones finale. But if you haven't watched it yet, seriously, what are you waiting for?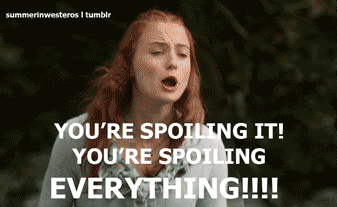 Before each episode of the eighth and final season of Game of Thrones, fans begged social media users not to talk about spoilers, so desperate were they to not learn anything until they actually got a chance to watch the show. But it turns out, the biggest spoiler of all came from one of the stars of the show a year ago, and she didn't even know she was spoiling it.
Sophie Turner's character on the show, Sansa Stark, was one of the few who didn't die. And like some of the other surviving characters, she was there from the very beginning of the show, as one of the original five Stark children, along with Robb, Arya, Bran, and Rickon.
Last year, Turner got a tattoo that made everyone think she was spoiling the ending of the show. The tattoo was of the sigil of House Stark, the head of a direwolf, and the words "The pack survives."
Turner swore that it was just a "moral" she liked to live by, but everyone thought it was a reference to the outcomes of the remaining Stark children living (Rickon and Robb were already dead). And they did, including Jon Snow, who wasn't really a Stark at all, but who did get one of the original six direwolf puppies they found in the beginning of the first season.
When James Corden brought up, during Turner's appearance on his show June 2018, the fact that fans were worried the tattoo was a major spoiler, Turner explained, "Yeah, actually while I was getting it done, people advised me not to because it looked like I was giving everything away, but I wasn't."
"It's just quote from last season. But everyone figures the pack really does survive, but it's just a moral that I like to live by."
It's doubtful that she meant it as a spoiler, because there was so much secrecy around the show. Joe Jonas had to sign an NDA in order to watch his now-wife Turner film parts of the final season. And there's a good chance that Turner herself really didn't know what would happen. It's just a strange coincidence that, in the end, the pack really did survive.