What is it with brands creating separate versions of their products marketed only towards women? Our bodies are really not that different from men's (besides the obvious).
We've had chips for women, whiskey for women, pens for women (we can hold regular pens, okay??) and recently one woman tweeted a picture of laxatives for women.
The woman, who goes by @BUGPOSTING on Twitter, snapped a picture of a pink box of Up & Up (a brand owned by Target) "Women's Gentle Laxative Tablets" right next to a green box of their "Gentle Laxative Tablets."
The difference? Well, except for the color of the pill (pink vs. beige), they look exactly the same. They both contain 25 5-mg tablets of bisacodyl, a stimulant laxative. But the ones "for women" cost $3.69, compared to just $1.49 for the regular stuff.
paying the big bucks so i can perform gender, with my Ass pic.twitter.com/IYJo9SMMTh

— ask not for whom the bug posts (@BUGPOSTING) May 28, 2019
This is a perfect example of what's called "the pink tax" and refers to the fact that products (like razors, shampoo, and clothing) and services (think dry-cleaning) for women tend to be more expensive than the ones for men.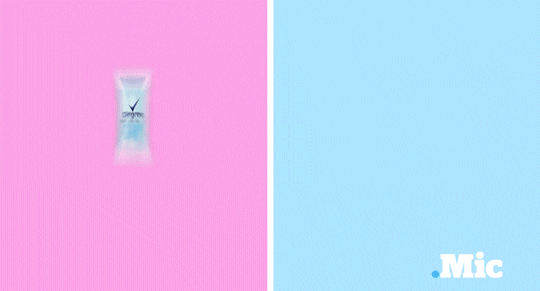 Someone on Twitter pointed out that the pink ones have a "comfort coating" that keeps them from irritating the stomach lining.
Ok I hate pink tax too but usually the women's bisacodyl has an enteric coating allowing for slow release (as not to irritate the limit of the stomach). If me have sensitive stomach it's recommended they take the women's bisacodyl.

— space jam (@badawiyyeh) May 28, 2019
But if they're just for more sensitive stomachs, why not say "sensitive" instead of "women's"?
I think it would make more sense to say its for sensitive stomachs rather than women.

— Hanan كانت هنا (@InitiateSarcasm) May 28, 2019
Not only is this medicine bizarrely performing gender, but what about the people who happen to be male who need sensitive stomach coating? Wouldn't marketing it as 'regular' and 'sensitive stomach' make more money, as they'd have 2x the potential market for both formulations? ?

— Wizard of Dada (@AaronFown) May 28, 2019
Someone else brought up that Target had made a whole deal of about getting rid of gendered signage.
Not to kink shame anyone, but I hope these are not shelved in the toy department.

— Ultrasquid @ Fanime (@ultrasquid) May 28, 2019
And, of course, there were a buttload (ahem) of jokes about the laxatives.
Pink is EXPENSIVE to print

— Priyamvada Gopal (@PriyamvadaGopal) May 28, 2019
Pooping! Now available FOR HER!

— Chris Barlow+ (@iamchrisbarlow) May 28, 2019
My anus is like a fragile flower.

— The Notorious B.E.V. ? (@blade_funner) May 28, 2019
'Comfort coated tablets'. Wtf does comfort look/taste like? @deemadigan

— Jane Splurky (@JSplurky) May 29, 2019
the women's laxative comes with a free Gun pic.twitter.com/h1IV0gdiXN

— fuckiest of nuggets (@atomicthumbs) May 28, 2019
For that much extra it'd better make your shit smell like candy and roses

— ? CharmedGeek ?? (@TheCharmedGeek) May 28, 2019
I'm sure the extra $6 for the pink comfort coating is totally worth it.

I'm assuming the standard coating is razorwire, right?

— Kragar (@Kragar_LGF) May 28, 2019
Well to be fair, be the women's laxative turns it into a sparkling pink froth.

— Disgraced tarp salesman (@WinslowDumaine) May 28, 2019
And others joked about the brand's name in relation to the desired end result of using the product.
Interesting that the arrow says up and up, when presumably one might prefer down and down!

— Fraser King (@DrFraserKing) May 28, 2019
Somehow "Up & Up" may not be the branding they want on these products.

— Shelby (@VoxShelby) May 28, 2019
Someone made the interesting point that women are statistically more likely to suffer from IBS.
Yes ma'am!! This isn't a sexist ploy! Women statistically have a higher risk of IBS and therefore companies decided to HELP WOMEN make laxatives that are gentler and better for daily usage.FDA requires it be marketed to ladies as that's why the product was researched and made!!

— Vic's Vapour Rub (@vict115510b) May 29, 2019
But it would still work just fine to say "for sensitive stomachs." Because men can be sensitive, too.