Marriage is based on trust, but for some people, that's just not going to cut it. They need to know where their spouse is and what he or she is doing at every moment. They are the proverbial ball and chain that people joke about when they refer to a controlling spouse.
In a subreddit called "Insane People Facebook," a user posted a screenshot of something a wife wrote on Facebook about letting her husband attend a friend's bachelor party. She mentions that they (her husband and herself) are "Christians," and the rules she sets are so strict the group of guys might as well be going to a church.
So hubby has been invited to a bachelor party, im more than happy for him to go, but we are Christians so I was thinking of writing a list of ruled (sic) for all the men to follow. Let me know if Ive missed something.

1. No illegal drugs

2. No cigarettes (hubby quit so I don't want the temptation)

3. No alcohol (hubby doesnt drink and alcohol leads to bad choices)

4. No strippers/dancers/women at all (a lot of these men are already married)

5. No fast cars / taxis only

6. All phones need to be tracked at all times

7. No swearing

8. Everyone home by midnight

9. No hurting eachother (including play wrestling)

10. No gambling

Have I missed anything?

Okay guys I have taken your feedback and your right, I cant control him once he leaves the house and i cant control his friends so ive decided just to not let him go.
Wow, that's not how I saw that ending. I figured at the end that once she learned she couldn't physically control her husband or put him on a 100-foot leash, that maybe she'd let go a little and just, I don't know, TRUST the man?

But nope! She's chosen instead to act like this man's mommy and tell him he can't go out and play with his little friends.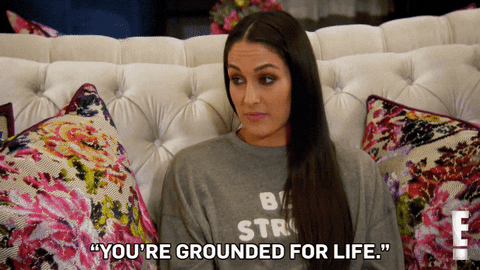 People on Reddit were amazed at how restrictive the list was. Some folks added more rules, as a joke.
11. Teacups must be used with saucers.—Yamfish

Pinkies out—totesbasic

Pretty sure this lady doesn't want anyone mingling at this party. She'll be there, enforcing 3′ minimum distance between any two people at all times.—VoilaVoilaWashington
And no one is allowed to use excessive sugar in their tea! One lump only, we are Christians not monsters!—AdamTheHutt84
Other folks laughed at the ridiculous level of control this woman was exerting.
Can't control him so I'm going to control him… perfect logic—

oooooaaaaaaouch
But other people got real, talking about how seriously unhealthy this whole relationship appears to be.
For anyone who doesn't see this for what it is, here is what she means by what she said…

"I can't control him once he leaves the house, and I can't control his friends, so I've decided to just not let him go."

Meaning "I CAN control him when he is at home, and I need to be able to control him, or no deal."

This is an unhealthy and probably emotionally abusive relationship. It is never the job of one spouse to "control" the other (with the possible exception of them not being in their right mind, e.g. blackout drunk and/or trying to hurt someone or themselves).

If they really are Christians they should know this is not a healthy relationship, and that it is not your job to control your spouse.—AHenWeigh
And the fact that they are Christians really doesn't amount to meaning much.
Being Christian = automatically knowing and conducting healthy relationships. Checks out.—DontTrustAnAtom

Somebody should remind her that technically she is "his property" and is beholden to living out the family life as he directs. It's what's in the good book.—quesoqueso
And someone else mentioned a woman who made her boyfriend take a lie detector test every time he came home because she didn't trust him.
This is kind of like the lady that made her boyfriend take the lie detector every time he came home to check if he had been talking to other women.—LeiemorderPer
It just goes to show you, there are some really unhealthy, controlling people out there. Better know what you're getting into before you get to the altar.